Throughout more than 30 years of history, Visconti has been characterized by its constant search for perfection in writing instrument design and engineering. The brand has presented an in-house nib completely designed and manufactured by the Visconti team. This important step has allowed Visconti to be totally independent and complete the in-house production of each piece, providing the customer with a completely "made in Italy" writing experience.
The first collections to showcase the new gold nibs are Opera Master Polynesia with 18K gold nib and Homo Sapiens Lava Color with 14K gold nib, launched at the end of August 2020. Their nibs are made of solid gold, one of nature's most malleable noble metals, allowing for a smoother writing experience. Tip fabrication requires more than 15 processing steps before final testing. Each nib is hand polished, like a real gem. 
With this event, Visconti has turned another page in its history. True to its roots in Florence, the cradle of Italian art, Visconti pays homage to two great Florentine masters to identify their nibs: 
The 18 kt gold nib bears 

Giotto's 

name

the 14 kt gold nib takes the name of Giottino.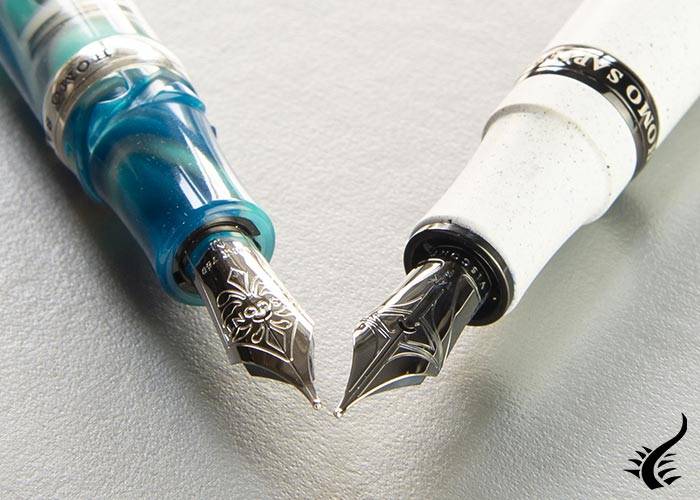 In blue, fountain pen Visconti Opera Master Polynesia with an 18K gold nib (Giotto) and in white, Visconti Homo Sapiens Lava Color Ash White with 14k gold nib (Giottino).