Founded in 1884 by Karl Elsener, Victorinox is a Swiss brand with a long history and reputation. Originally born as a brand of knives and razors, it is today the only official supplier of these tools to the Swiss army. As the company grew, they decided to manufacture other types of products such as: watches, clothing, fragrances or travel items among others. 
The emblematic cross and shield that make up their logo was not always part of the identity of Victorinox, but was registered 25 years after the founding of the company. At first, they also manufactured tools without the logo at a lower price, but Elsener wanted to differentiate the brand from the rest of its competitors. The cross represents strength and positivism, while the shield represents protection. Its name is a play on words that comes from "Victoria", the mother of its founder, and "Inox", which comes from stainless steel (Inoxydable).
After more than 130 years of experience in the area of metals and mechanics and known for its Swiss precision, in 1989 Victorinox was launched into the world of watchmaking, almost by popular request. For Victorinox Swiss Army, the technical performance and the goal of optimizing the utility and functionality of the watches are paramount. All of its parts meet the highest standards of watchmaking and pass more than 100 tests before they are released on the market. Its iconic design is inspired by the knife, symbolizing the union of the history of the house with its contemporary interpretations. The watches stand out for their easy-to-read dials, sophisticated features, select materials and a design that is always geared towards practicality.
Victorinox is a brand 100% related to physical activity, sport and nature, so it has an interesting offer of Divers and robust watches. Special mention deserves its iconic Paracord strap, which is included in some standard models, but can also be purchased separately. It is a strap prepared for any unforeseen event, created in collaboration with another Swiss brand, Naimakka, and hand-woven with the same nylon cord used for the suspension cords of the parachutes. By undoing this strap it could be used as a climbing resource, as a bow rope, to make slingshots, as a structure for an awning or an improvised tent, to repair backpacks, boots, belts and many more utilities letting your imagination run wild.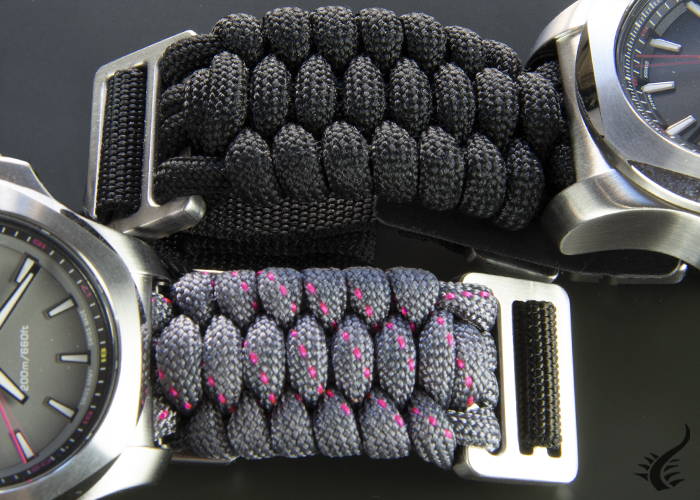 On the other hand, it is also necessary to highlight the iconic Victorinox bumpers. The bumpers are removable covers that add a characteristic touch to the watch while protecting it from scratches. These accessories perfectly embrace the shape of the watch, thus accentuating its most characteristic features.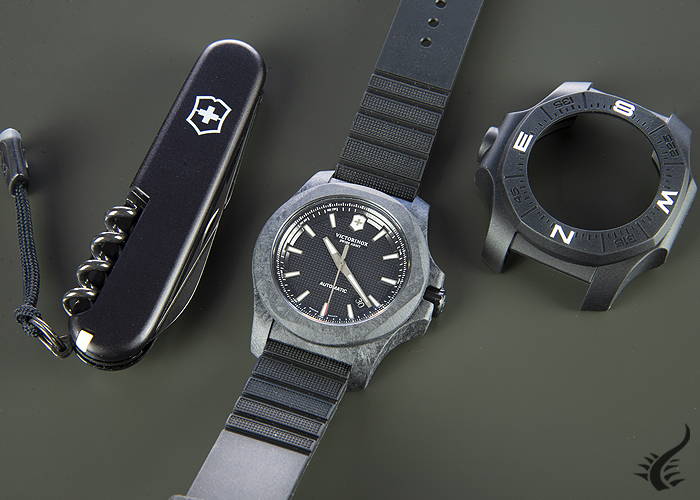 Within the Victorinox lines you can find watches with unidirectional and bidirectional rotating bezel, with screwed crown, sapphire glass, back glass, chronograph or even with moon phase. Victorinox also differentiates itself by the materials of its pieces, presenting watches with space tested carbon cases that are highly resistant to scratches or lightweight titanium that gives the pieces exceptional durability. In its collections we find both women's and men's watches. 
Finally, Victorinox Swiss Army offers a series of unlimited edition watches with unique packaging. For example, the latest novelty from 2020 surprises us with a case with a shockproof camouflage print, where you can find a bumper, two additional genuine rubber straps and an exclusive edition of the Swiss Army Knife Evolution 23 in military greenor.