The application of maki-e in the world of writing came from Ryosuke Namiki, founder ofNamiki. Although the company began by focusing on the manufacture of gold nibs, Namiki and his collaborator Masao Wada soon began to produce their own fountain pens. The pens of the time, made of ebonite, needed a protective coating to insulate them from agents that could damage the delicate material, including the ink itself. Namiki decided to use urushi on ebonite and, in a quest to enhance its beauty, to use maki-e techniques to draw different designs that would give his pens a unique style.
The designs made by Namiki masters are not mere imagination, as they all have a meaning and tell stories or refer to Japanese traditions or legends. Today, the process of making a Namiki fountain pen remains the same as it was when the company began. The fountain pen is made in resin, and then the urushi lacquer is applied to it. The lacquer has to be wet and, with a brush, layer after layer is applied. The more layers of urushi lacquer the fountain pen has, the more expensive it will be. For example, a high-end fountain pen has up to 25-30 layers of urushi lacquer.
A clear example of this is the new Namiki Yukari Royale Peony & Butterfly, where we can see beautiful drawings of the peony flower carefully made by master craftsman Misa. The peony has been used in Asia since ancient times for its medicinal virtues, and unmistakable beauty and sweet aroma that make this flower is represented in the art world to announce the beginning of spring. In this select piece you can see three beautiful peonies with butterflies around them. The pink peony represents love, the white peony represents modesty and the mauve peony celebrates friendship.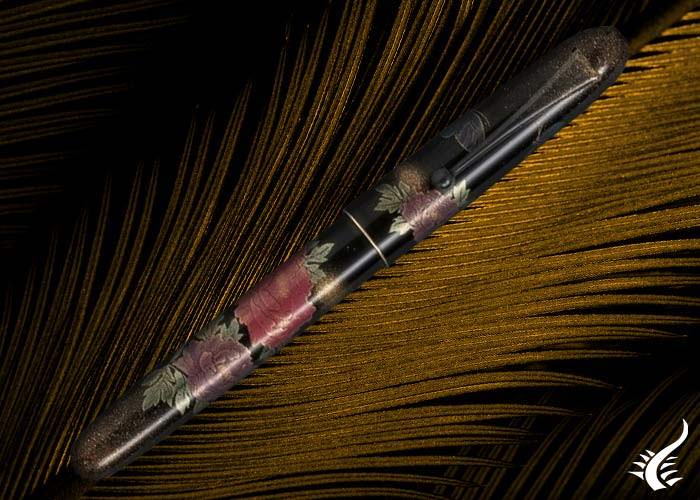 Fountain pen Namiki Yukari Royale Peonny & Butterfly
Another great example where we can observe the effort and the great work done by Japanese Maki-e craftsmen, are the Mount Fuji fountain pens. This sacred volcano of Japan has become a symbol of Japanese culture and its omnipresence in this culture is not due to chance, since its religious scope is very important. Within this series of fountain pens we can find several designs with different themes and stories: Namiki Nippon Art: Mount Fuji and Wave, Namiki Mount Fuji and Ship Nippon Art, Namiki tradition Mount Fuji and Dragon.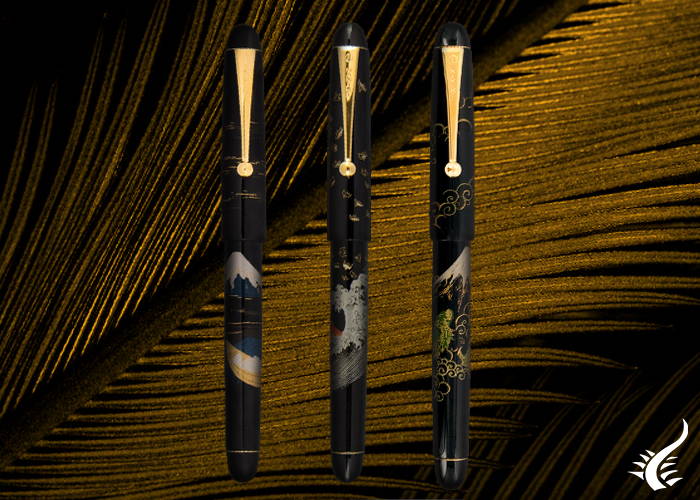 From left to right : Namiki Mount Fuji and Ship, Namiki Mount Fuji and Wave and Namiki Mount Fuji and Dragon.
Lacquering. Drawing. Dusting. Polishing. These four processes are repeated continuously to obtain a beautiful Namiki Maki-e piece, regardless of the collection to which they belong. Attentive to the needs of collectors, Namiki has created collections that adapt in theme and price to the whims of those who crave them: from the more affordable Nippon Art, to the select Togadashi-maki-e and Taka-mahi-e present in the Yukari Royale collection.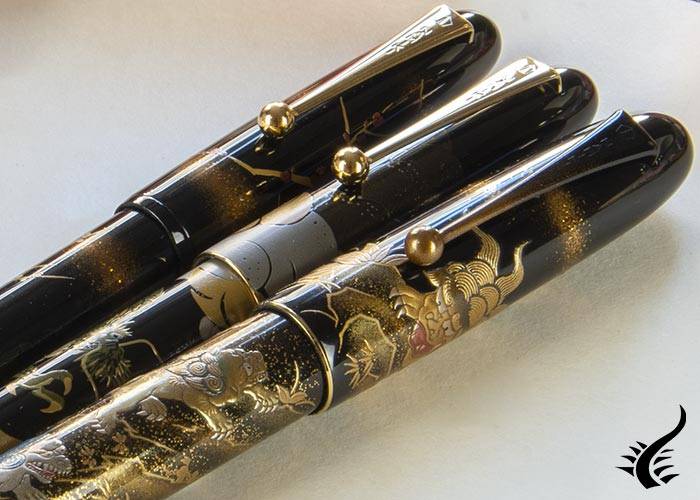 In the picture, Namiki Yukari Apricot Tree and Warbler, Namiki Nippon art Maki-e Dragon & Cumulus and Namiki Yukari Royale Lioness and cubs.
Namiki currently has a total of 19 Maki-e artisans manufacturing parts throughout Japan.